Selectrol®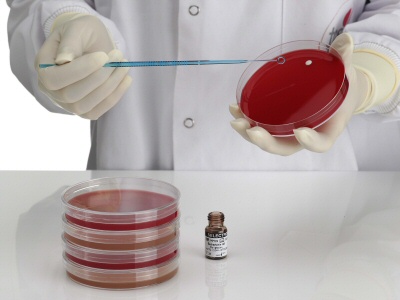 One Passage from Recognised Type Culture Collection
A Convenient Source of Quality Control Organisms
Consistent QC Materials time after time
Selectrol® is a convenient source of viable micro-organisms which can be used for a variety of quality control and testing applications, manufactured under licence from Public Health England.
Selectrol® discs are freeze-dried for easy storage and, when reconstituted, will provide cultures with characteristic reactions. The discs are also water soluble and can, therefore, be inoculated directly onto solid or into liquid culture media. The strains are available in packs of 10 discs and certain strains are available in 25 disc packs. The discs are versatile and can be used for the quality control of culture media, staining reactions and biochemical reactions employed in the identification of micro-organisms.
Selectrol® may also be used to determine the concentration of antibiotics in blood, serum, CSF and other body fluids. In addition to this, Selectrol® can be used for the quality control of antibiotic susceptibility testing, whether by disc diffusion or serial dilution.
Selectrol® allows you to have confidence that your quality control organisms have the same performance characteristics every time you use them.
Selectrol® Disc Quality Control Testing
Our in-house Selectrol® laboratory is UKAS (United Kingdom Accreditation Service) accredited for the quality control testing of Selectrol® (UKAS accredited testing laboratory No. 2496). Please refer to our schedule on the UKAS website.
Quality control testing of Selectrol® includes biochemical profiling to demonstrate that the characteristics of the final product are identical to those of the source strain. A Test Report for each batch of Selectrol® can be accessed via this link: Selectrol® Certificates.
Product Data
Online Catalogue
Selectrol® discs are manufactured exclusively from NCTC (National Collection of Type Cultures)* and NCPF (National Collection of Pathogenic Fungi) and are guaranteed first generation derivatives from the source strain.
*NCTC and National Collection of Type Cultures are trademarks for the Public Health England.
ATCC® strains are listed for reference only.
ATCC® is a registered trademark of the American Type Culture Collection.
Registered customers can...
• Easily review previous online orders • Add and manage multiple delivery addresses • Save items in your basket for future purchase