Contract In Vitro Diagnostics Manufacture
TCS Biosciences Ltd is best known as a manufacturer and distributor of laboratory reagents and test kits. During our 50 year history we have developed skills, processes and procedures that make us the ideal contract manufacturing partner of in vitro diagnostics kits and kit components.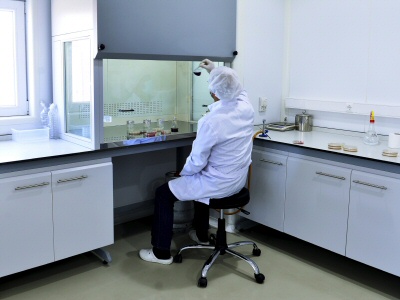 Key IVD Contract Manufacturing Capabilities
Custom Chemical and Buffer Production
Bulk Reagents / Dyes and Stains
Aliquoting / Final Packaging
Custom Media Fills
Custom Production / Manipulation of animal blood, serum and proteins
Human Serum positive and negative control matrices
Custom Production of micro-organisms in the Selectrol® format
We have experience in supporting small scale start-up businesses and projects right through to large scale in vitro diagnostic contract manufacture for well-established products.
Our own IVD manufacturing activities mean that we purchase a wide range of raw materials, consumables and packaging solutions for our own use. This allows our IVD contract manufacture partners access to a low cost base by tapping into our economies of scale.
Contact us today to discuss your IN VITRO DIAGNOSTIC (IVD) CONTRACT MANUFACTURING requirements.
What makes us the ideal IVD contract manufacturing partner . . . ?
TCS Biosciences Ltd is an ISO 9001, ISO 17025 and ISO 14001 certified company, ensuring high quality IVD kits, kit components and contract manufacturing services while minimising our impact upon the environment. Our QC Laboratory is accredited to ISO 17025 by UKAS for specified tests as stated on our Schedule of Accreditation (Testing Laboratory No. 2496) * and is on hand to provide quality testing and certification.
Over the years, it has been necessary for TCS Biosciences Ltd to develop a strong regulatory department. Our IVD contract manufacturing expertise is complemented by our regulatory team who are well versed in the requirements for the manufacture of IVD products, and the import and export requirements for animal by-products and chemicals.
As a member of REACH Ready, we comply with the European Regulation concerning the Registration, Evaluation, Authorisation and Restriction of Chemicals (EC) No 1907/2006(REACH). TCS also meets the requirements of the Classification, Labelling and Packaging Regulation (EC) No 1272/2008 (CLP). Our experience in these regulations means that we can offer help and advice to our partners in the packaging and labelling requirements for IVD kits and kit components that we contract manufacture on their behalf.
Our qualified DGSA (Dangerous Goods Safety Advisor) is on hand to ensure that the most appropriate freight methods are chosen for your chemical products and, where required, Dangerous Goods Notes (DGN's) can be raised on site.
TCS Biosciences Ltd is also approved by the Animal and Plant Health Agency (APHA), formerly AHVLA to receive and store category 1, 2 and 3 animal by-products under European Regulations (EC) No 1069/2011 and (EC) No 142/2011 (Animal by-products Regulations).
Our memberships of the British In-Vitro Diagnostics Association (BIVDA) and International Serum Industry Association (ISIA) allow us to keep up to date with the latest issues and regulations impacting upon partners that we undertake in vitro diagnostics contract manufacture for.
We are based in a rural location and operate across two adjacent sites. The processing and storage of human and animal blood products are carefully segregated. Both sites have large capacity refrigeration and freezer storage facilities ensuring we can satisfy a range of product storage requirements.
TCS Biosciences Ltd possesses the skills, knowledge and accreditations to meet the requirements of many different in vitro diagnostic contract manufacturing projects. This coupled with our unrivalled attention to detail and commitment to quality means that you can confidently place your IVD contract manufacturing projects with TCS.
Contact us today to discuss your IN VITRO DIADGNOSTIC (IVD) CONTRACT MANUFACTURING requirements.
*Specific projects may require addition of tests to our scope.
Registered customers can...
• Easily review previous online orders • Add and manage multiple delivery addresses • Save items in your basket for future purchase