Home
› Donor Horse (Equine) Serum
Donor Horse (Equine) Serum
We recognise the important role played by serum in the manufacture of safe, high quality products.
As part of the surveillance system to ensure biological safety of such products, regulatory controls are applied to serum, paying attention to every step from raw material collection to final testing of the finished product.
Thorough biological testing is necessary to assure performance and to eliminate potential biological hazards.
Tissue culture scientists need to have complete confidence that the serum they use meets their specific needs, and that properly validated procedures have been used to demonstrate this. It is therefore important that all operations from the animal to the finished product are quality controlled and fully documented.
Animal Welfare
Careful selection, free-range conditions, extensive good pasture and stringent veterinary supervision ensures healthy stock. Blood collection is carried out in stress-free conditions by qualified, trained personnel in accordance with the Animals (Scientific Procedures) Act 1986. Veterinary health certificates are available upon request.
Our 400 hectare farm is divided into several sites, each fully equipped for blood collection. Horses have been screened for viruses and other pathogens before admission to donor herds, each of which is isolated from other stock and used exclusively for blood donation. The system ensures rigorous control of the health of our animals.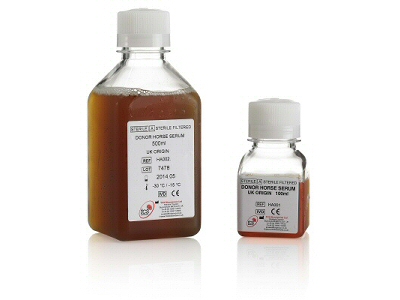 Consistent Quality
We maintain high quality standards in all aspects of serum production from animal husbandry, through collection to processing and packaging to ensure consistent top quality products. We recognise that traceability is of prime importance to our customers, and we are renowned for the quality of our documentation trail and our rapid response to specialist customer requirements.
Processing
Raw donor sera are stored frozen prior to filtration, which we contract out. Thawing is carried out under controlled conditions prior to homogenisation and sterile filtration to 0.1μm. The final sterilising filter is integrity tested before and after processing.
After filtration the dispensing and bottle filling processes are carried out in a state-of-the-art clean room under laminar flow.
Once labelled, the filled bottles are returned to frozen storage at -20°C without delay.
Our donor horse serum is usually supplied in 500 ml PETG bottles; however, other pack sizes can be supplied by arrangement.
Certificate of Analysis
All batches of donor horse serum come with a detailed certificate of testing. Additional tests can be carried out, should your specification require it.
Manufacturing Batch Records
A complete manufacturing record is kept for each batch, including the serum pooling record, details of the filters used, preparation of the filtration apparatus, number of bottles filled and samples taken for quality control testing.
Online Catalogue
Registered customers can...
• Easily review previous online orders • Add and manage multiple delivery addresses • Save items in your basket for future purchase