Internal QC for Cryptosporidium and Giardia
Provides Percentage Recovery with Every Test
Robust and Easy to Use
This revolutionary new reagent provides an internal quality control parameter against which the performance of every environmental sample can be analysed. ColorSeed™ enables accurate water testing and simple interpretation of results with a percentage recovery for every test.
Each ColorSeed™ vial contains exactly 100 flow sorted Cryptosporidium parvum (Iowa Strain) and 100 flow sorted Giardia lamblia labelled with a permanent red dye. ColorSeed™ contains gamma-irradiation inactiated oocysts and cysts that display typical morphology. Each batch is supplied with a certificate of analysis.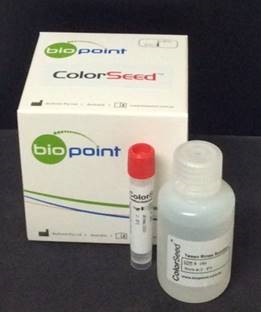 Image courtesy: BioPoint©
Product Data
Code
Description
Size
Z9CS-CG100
Color

Seed

™ 100 Cryptosporidium oocysts and Giardia cysts
10 Vials
Online Catalogue
Registered customers can...
• Easily review previous online orders • Add and manage multiple delivery addresses • Save items in your basket for future purchase