Packaging change – Blood Products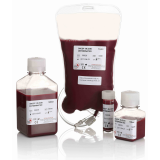 Products:
Horse blood and sheep blood, defibrinated, lysed or in anticoagulants.
Proposed Change Date:
September 2012
Change Details:
TCS Biosciences Ltd will no longer be packaging the 25ml, 100ml and 500ml blood bottles into clear plastic bags.
Reason for Change:
TCS aims to attain the ISO 14001 environmental management standard by April 2013. In line with this standard we have reviewed our impact on the environment, including an assessment of our approach to packaging, and have concluded that the clear plastic bags are not necessary.
Horse Blood Products Affected:
HB033, HB034, HB035, HB036, HB037, HB038, HB039, HB040, HB041, HB042, HB043, HB044, HB045, HB046, HB047, HB048, HB049, HB050
Sheep Blood Products Affected:
SB053, SB054, SB055, SB056, SB057, SB058, SB059, SB060, SB061, SB062, SB063, SB064, SB065, SB066, SB067, SB068, SB069, SB070
If this change will cause you any difficulties or concerns, please contact us immediately.
Sep 2012