MM83 / Klebsiella pneumoniae NCTC® 13368 / ATCC® 700603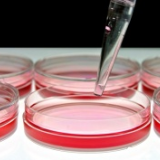 Please see below the product information update for MM83.
Indicator strain E. coli NCTC® 12241 / ATCC® 25922, currently used in the Modified Hodge Test for the detection of Klebsiella pneumoniae carbapenemase (KPC) and metallo-beta-lactamase (MBL)-producing Enterobacteriaceae, is not optimal for testing Pseudomonas aeruginosa strains, due to inhibition of the background lawn of the indicator strain by many test strains, leading to equivocal or indeterminate results and poor repeatability.
Attempts to improve performance by substituting the E. coli indicator strain with Pseudomonas aeruginosa NCTC® 12903 / ATCC® 27853 produces similarly poor performance – low sensitivity, low specificity and a high number of equivocal or indeterminate results.
If Klebsiella pneumoniae NCTC® 13368 / ATCC® 700603 (Selectrol strain MM83) is used as the indicator strain, indeterminate results are eliminated and sensitivity and specificity increased to 100% and 98% respectively. The test also shows 100% repeatability.
Making this change of indicator organism should result in improved detection of Pseudomonas aeruginosa isolates suspected of producing carbapenemases, including currently circulating KPCs and carbapenem susceptible MBLs. The recommendation is that the test should be used to screen all ceftazidime-resistant strains of Pseudomonas aeruginosa with meropenem zone sizes of ≤23mm or MICs of ≥1 mg/l, an epidemiological breakpoint suggestive of carbapenemase production.
Reference: J. Clin. Micro December 2011 p4301-4303
'Sensitive and specific Modified Hodge Test for KPC and Metallo-Beta-Lactamase Detection in Pseudomonas aeruginosa by Use of a Novel Indicator Strain, Klebsiella pneumoniae ATCC® 700603 (NCTC® 13368)'
If you would like to download this article please visit www.journals.asm.org
ATCC® strains are listed for reference only.
ATCC® is a registered trademark of the American Type Culture Collection.
NCTC® and NCPF® are trademarks of the Health Protection Agency.
Dec 2011