EasySeed™ - the global reference standard for Cryptosporidium and Giardia testing.
Rapid Quality Control Procedure
Flow Cytometer Enumerated
Precise Demonstration of Testing Performance
EasySeed™ has been approved by the UK Drinking Water Inspectorate and the US Environmental Protection Agency. The products are flow-sorted to contain 100 gamma-irradiated Cryptosporidium parvum (Iowa Strain) oocysts and 100?1 Giardia lamblia cysts in approximately 1ml of saline solution (Z9ES-CG100), or 100°C parvum oocysts only (Z9ES-C100). EasySeed™ can simply be added to your QC water sample for a precise and consistent demonstration of testing performance.
Gamma-irradiated oocysts and cysts are safe to use and morphologically stable. EasySeed™ tubes are sealed, sterilised and stable for 4 months. Kits contain 10 vials. If required, vials can be customised to contain a specified number of oocysts.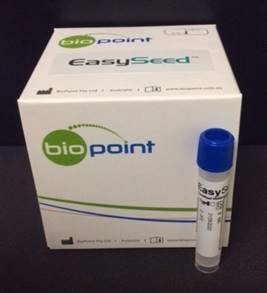 Image courtesy: BioPoint©
Product Data
Code
Description
Size
Z9ES-C100
Easy

Seed

™ Cryptosporidium 100
10 Vials
Z9ES-CG100
Easy

Seed

™ Cryptosporidium & Giardia 100
10 Vials
Z9ES-CUS*
Easy

Seed

™ Custom*
10 Vials
Products can be purchased as Cryptosporidium only or Cryptosporidium and Giardia combined.
* can be produced to order with a specified number of Cryptosporidium oocysts and / or Giardia cysts.
Available in the UK and Europe only.
Online Catalogue
Registered customers can...
• Easily review previous online orders • Add and manage multiple delivery addresses • Save items in your basket for future purchase