Accu-Bac Quantitative Micro-organisms
TCS is excited to announce our innovative new quantitative micro-organism product, Accu-Bac.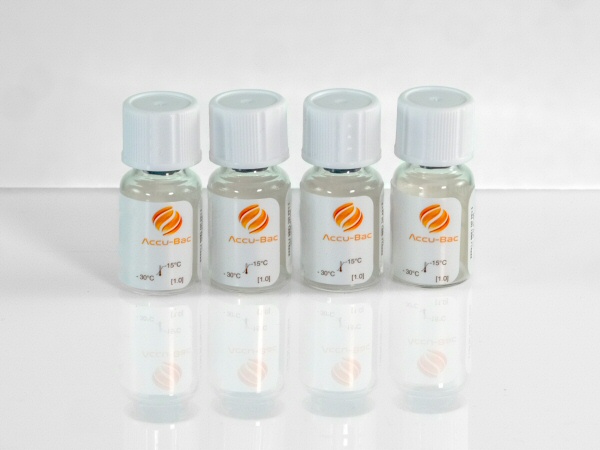 Accu-Bac is a guaranteed second generation derivative of NCTC cultures, manufactured under licence from UK Health Security Agency.
Each carefully prepared disc will contain a target range of c.f.u, with 95% confidence interval stated on the Certificate of Analysis. This is ideal for most quantitative applications. AccuBac will be supplied in 1 disc vials and has a minimum 18 months shelf life from the date of manufacture.
Target c.f.u. counts per disc, with 95% confidence interval range stated on the Certificate of Analysis
Shelf life of minimum 18 months
Simple to use, no dilutions required
Guaranteed 2nd generation and fully traceable to the original NCTC source strain
Certificates of Analysis available from our website
Identification and Characterisation testing completed in accordance within our UKAS accredited scope
Accu-Bac provides a convenient source of enumerated micro-organisms of known biochemical reactions and are ideal for use in:
Enumerated QC to ensure quality of test results
Proficiency testing
Method Validation
Staff training / competency testing
Limits of Detection Testing
Media QC
Sterility Testing / Clean room validation
General microbiological methods where a known number of bacteria are required
Accu-Bac discs are easy to use. Follow the simple rehydration instructions and use immediately.
Accu-Bac is tested using methods that form part of our UKAS (United Kingdom Accreditation Service) accredited scope (UKAS accredited testing laboratory No. 2496). Please refer to our schedule on the UKAS website. Quality control testing of Accu-Bac includes biochemical profiling to demonstrate that the characteristics of the final product are identical to those of the source strain.
A Test Report for each batch of Accu-Bac can be accessed via this link: Accu-Bac Certificates.
Product Data
| Code | Description |
| --- | --- |
| ABXXUL-1 | Accu-Bac Pharma Low <100 C.F.U |
| ABXXL-1 | Accu-Bac Low 100-150 C.F.U |
| ABXXM-1 | Accu-Bac Medium 300 C.F.U |
| ABXXH-1 | Accu-Bac High 300-1000 C.F.U |
Document Downloads
Online Catalogue
How to Use Videos
Registered customers can...
• Easily review previous online orders • Add and manage multiple delivery addresses • Save items in your basket for future purchase