SICKLE-CHECK
Simple Screening Test
Distinguishes between HbAS and HbSS Sickle Conditions
Detection of Haemoglobin-S
SICKLE-CHECK offers a quick, economic test to detect the presence of reduced sickle haemoglobin (HbS), based on the principle that the solubility of (HbS) is low compared to the solubility of normal haemoglobin (HbA). When a positive screening test has been observed a centrifugation test must be conducted to distinguish the heterozygote (HbAS) from the homozygote (HbSS) sickle conditions.
Kits include reducing agent (sodium dithionite) and a phosphate buffer solution containing a haemolytic agent. The components are supplied in different quantities according to the number of tests to be performed.
SICKLE-CHECK is available in 3 pack sizes so can be purchased to suit laboratory testing schedules.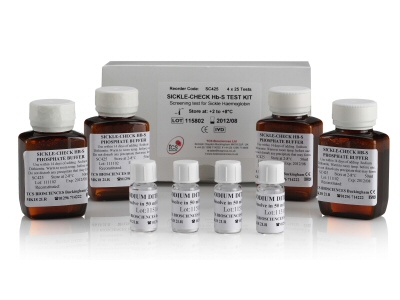 Product Data
Online Catalogue