Home
› VISITECT® Malaria Pf/PAN Test Kit
Introducing VISITECT® Malaria Pf/PAN Test Kit
VISITECT® Malaria Pf/PAN ZFOD326 is an HRP2 and pLDH dual detection rapid test kit.
The kit is designed to give optimal efficiency in your laboratory, by providing reliable results in 20 minutes, at an economical price.
Cost effective at just £1.75 per test, £43.75 for the 25 test kit.
Easy to use

Two step protocol
Finger prick sample
Lines clearly visible

Rapid

Results in 20 minutes
Saves time

Key Benefits

Rapid qualitative tests
Two step procedure
Convenient and easy to use
CE marked
Supplied as a 25 test kit with all necessary components
Inverted cup 5µL sampling device

Robust and Reliable

Sensitive and specific
Optimal for resource-limited settings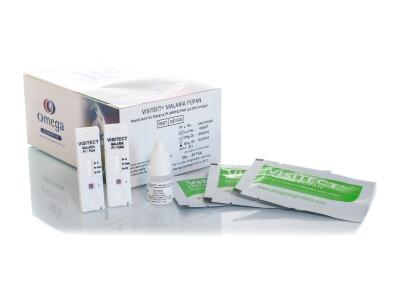 Online Catalogue
Registered customers can...
• Easily review previous online orders • Add and manage multiple delivery addresses • Save items in your basket for future purchase