Effective positive control for oocyst staining and counting
Gamma-irradiation inactivated oocysts with typical morphology
EasyPC™
EasyPC™ is a polystyrene screw-capped test tube containing a 2ml volume of oocysts of the Iowa strain of Cryptosporidium parvum. Each aliquot provides between 80 and 120 oocysts when spotted onto a microscope slide. EasyPC™ contains gamma-irradiation inactivated oocysts that display typical morphology. Each batch is supplied with a certificate of analysis.
EasyPC™ is a DWI approved positive control for Cryptosporidium oocyst staining and counting, designed to enable easy quality control testing of FITC stains.
EasyPC™ replaces the need to formulate and maintain oocyst suspensions for quality control purposes.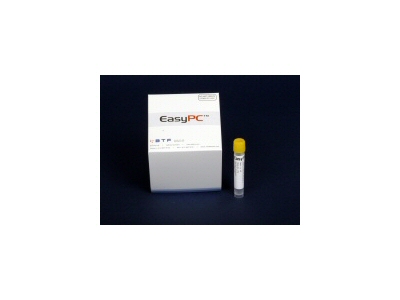 Image courtesy: BTF©
Product Data
Code
Description
Size
Z9EPC-C
Easy

PC

™ Cryptosporidium
4 Vials
Available in the UK and Europe only.
Online Catalogue
Registered customers can...
• Easily review previous online orders • Add and manage multiple delivery addresses • Save items in your basket for future purchase