Packaging Specification Update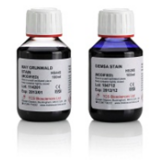 Dyes and Stains (Wet) Bottle Change from the Nolato Jaycare Natural 1 Litre HDPE to the Thermo Scientific Nalgene® Natural 1 Litre HDPE bottle and closure.
As a result of continued closure issues with our current supply of 1 Litre HDPE Bottles, TCS Biosciences Ltd has taken immediate steps to change to the Thermo Scientific Nalgene® Natural 1 Litre HDPE Narrow-Mouth bottle and closure.
The new bottle and closure have passed all integrity and leak tests conducted by TCS on a range of aqueous and alcohol based products. Additionally, the manufacturer has provided us with the following information:
Thermo Scientific Nalgene® HDPE Narrow-Mouth Sterile Bottles provide excellent chemical resistance.
Bottles are manufactured and packed in a controlled environment to minimize biological and particulate contamination.
Shrink-wrapped trays are packed in double-polybagged cartons
Durable construction
Narrow mouth for easy pouring
Natural HDPE bottles with white PP closures
10-6 SAL
Sterile
Leakproof†
Compliance: Manufactured in compliance with ISO 13485:2003 quality requirements. Bottles and Closures meet the requirements of 21CFR177.1520 for food and beverage use, USP Class VI.
† The term "leakproof" applies to Thermo Scientific Nalgene products that meet the following criteria: a) Bottle/flask/funnel closure systems with closures smaller than 100mm, after they are filled with water, inverted, withstand air pressure of 2psig for 2 minutes, and no water escapes;. b) Bottle/funnel/flask closure systems of larger than 100mm after they are filled with water, inverted for 15 minutes, and no water escapes. Note: these tests, using other liquids, may not yield the same results. To ensure safe usage, customers are advised to test Thermo Scientific Nalgene bottles and closures under conditions of their planned applications. Thermo Scientific Nalgene products are leakproof at ambient temperature and pressure when used with their Nalgene closures.
Aug 2012