TCS Biosciences Ltd is pleased to announce our partnership with Biomex GmbH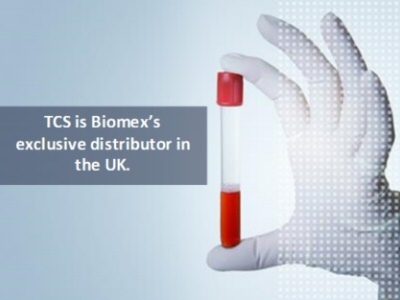 Biomex has been a specialist manufacturer of biological and chemical raw materials for more than 20 years.
Biomex is part of Mex GmbH. The group consists of DiaMex, MEXACARE and ESfEQA.
Over 90% of all special plasmas and all specific negative plasmas are produced in Biomex's own plasma donation centres in Heidelberg and Munich, collecting annually over 18,000 litres of normal plasma and 350 litres of disease state plasma.
Biomex also has blood collection centres based in Cameroon and Florida.
Products not manufactured but supplied by Biomex are sourced through carefully selected, exlusively contracted partners.
HCV panels are available from TCS Biosciences Ltd. -
click here for more information
.
Bulk Plasma for Production in ELISA and EIA
Patient samples for IVD R&D and Validation
Panels for QC
Prospective Sample Collections for Studies
Commodities for Research Development and Production
For more information click here.
Feb 2017